While they are fun to watch, animated lighting displays at Christmas, Halloween, or other times of the year can be a little intimidating when it comes to planning and installing a display at your own home or business.

We completely understand the feeling and are happy to help you design a cool lighting display and determine the parts and pieces you need to pull it off. There are always features that are unique to every display but we can generally help you figure out a plan through a basic 5-step plan:
Step 1
Send us a picture of your home or business. If you have done a lighting display before and have a photo, we would like to see that also. (Send digital photos to support@animatedlighting.com.) If you have any video of a previous display, seeing that would be extremely helpful also so send us YouTube links or any other means to show us what you have done in the past.

Here is an example of a picture that someone sent us of their home. Let's call this the "Before" photo.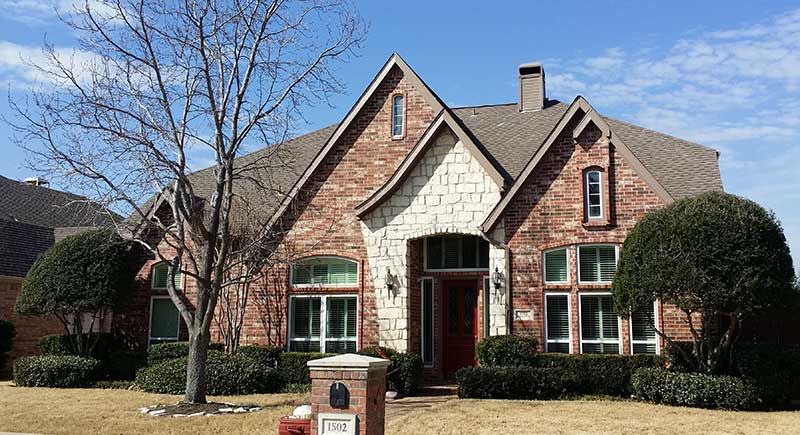 Step 2
Look at videos on our website for ideas. We literally have dozens of videos on our website that shows what other Animated Lighting customers have done in our Showcase section. Included in the videos, you will see examples that use standard lights and our Just Add Power products in action. Browse these videos and see what you think is WOW and you want to do in your display.
Step 3
Share with us your "vision" for a show when you send the digital photos. This way we know what you are wanting to accomplish.

Remember that you are putting on a "show" complete with lighting and music so your home or business is the "stage" for your show. You want to make sure your stage is not too large that visitors to your show cannot see everything dancing together. You would not want to go to a play or concert and not be able to see all the performers after all. The same applies for your lighting show.

When you share your vision, we need to also know the existing lighting that you are going to use. Most everyone already has some strands, lighted figures, etc., so we might as well try to make use of them.
Step 4
Call us (816-941-0400) so we can discuss the information you have sent us.

We certainly don't expect you to know what songs to include, how long the show will be, all the lighting elements you want to use, etc, before you call us. However, our experience has shown us that we cannot give you a clear idea of your show without sending us at least the "before" picture. So be sure to at least have that on hand.
Step 5
We will work with you on the display that will match your vision and budget. We will also show you steps to grow your display over several years so that you can always have something fun and exciting to offer the visitors to your display.
Conclusion
We showed you the "Before" picture above. Here is the "After" video.


Questions? We are happy to answer them. It's never too early to start planning and budgeting for the holiday season at Animated Lighting. Please contact us today for any assistance you need in planning your display.