I've been writing lately about how we pull together large holiday displays for our customers at Animated Lighting. I thought I'd include our work at the Christmas On Ice event in Madison, MS, as the latest entry in this series.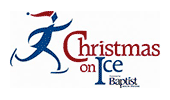 Baptist Health Systems has been in business for more than 100 years and uses "Leaders in Healthcare, Followers in Faith" as their slogan. The organization is actively involved in the community promoting wellness and family and also living their religious beliefs.

Animated Lighting was approached by Steve Hutton in June 2012 about a new project that was about to be undertaken by Baptist Health Systems called "Christmas on Ice."

The organization wanted to create an event that would be fun and exciting for families while also offering a way to walk and discuss the birth of Jesus and the religious importance of the Christmas season.

After gathering all the requirements, Animated Lighting designed a display with the following components:
32-foot-tall tree illuminated with RGB Pixel Strings and dancing to pre-programmed songs
24 Snowflake Arches with lighting effects that were synchronized to the main tree
12 LED trees (also with lighting effects synchronized to the main tree)
An ice ink (the only outdoor-rink in mid-Mississippi)
An "ice slide" to be ridden in an inner tube
A stage for concerts (50 concerts in 50 nights)
A walking path for families to discuss the birth of Jesus
Vendor booths to sell hot chocolate, coffee, etc.
Various illuminated items including the skater logo and large cross for front of Baptist Health Systems building
Controllers and wireless connectivity for all the items above
Here is a picture of the entrance to Christmas On Ice 2012: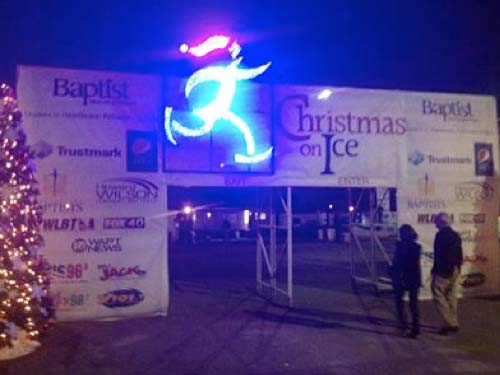 High Attendance
Steve Hutton was hoping for 35,000 people to visit during their 6 weeks of Christmas On Ice 2012. They instead had over 105,000 visitors for their 6 weeks! Steve happily learned that Christmas On Ice needed to grow substantially for 2013.
2013 Plans
Animated Lighting worked with Steve to increase the lighting portion of the display to include the following:
Increasing the size of the tree to 36-feet-tall and increasing the number of RGB Pixel strings illuminating the tree
Introducing garland on the fences and vendor booths that were illuminated with RGB Pixel strings and programmed to dance to the music
Introducing a "Singing Christmas Tree Family" to greet visitors at the entrance to Christmas on Ice
More trees and lighting over the expanded size of the area that is also synchronized to music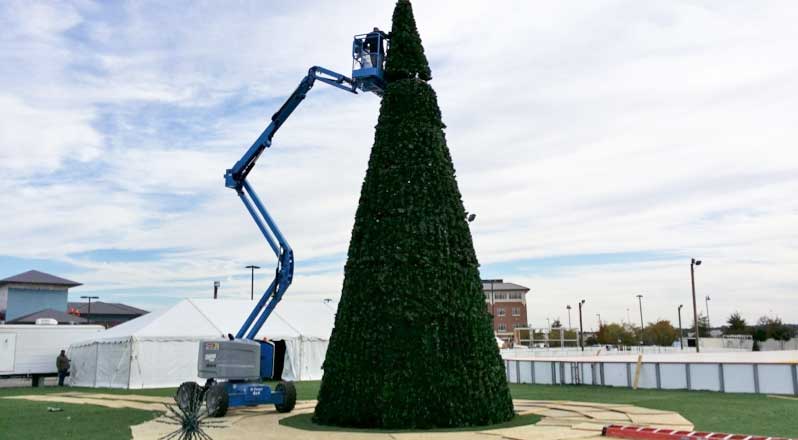 The tree is erected in different sections. Here we are placing the top section in place.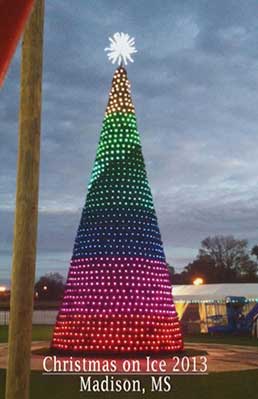 The finished tree. Stunning, isn't it!
Singing Christmas Tree Family
Our Singing Christmas Tree Family is an incredibly charming and fun product. There are four Christmas Trees (12-, 10-, 8- and 6-feet-tall models) that "sing" to traditional Christmas songs. They all take turns being the "lead singer" while the other Trees sing "backup". These trees were at the new (and larger) entrance to Christmas On Ice 2013.

Here is a picture with a young visitor getting his picture taken with the Singing Christmas Trees: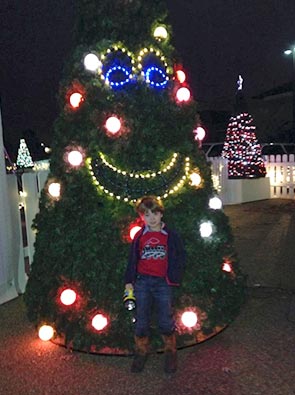 Here is the video of the Singing Christmas Tree family at the entrance to Christmas On Ice 2013:


Christmas On Ice, 2013 Version
We have a video showing the various lighting elements of Christmas On Ice 2013 that you can see below:


2014?
After two incredibly successful years, we are already developing ideas to make the 2014 event even more attractive. Stay tuned!