Standard Mini Trees

These Trees are built out of powder-coated steel and illuminated with standard LED light strings. They are illuminated with Red, Green, Blue and Pure White LED light stings and they are designed for outdoor use. These trees are 36-ins or 48-ins tall (your choice) and are 3-dimensional (360° viewing).
This JUST ADD POWER package includes the trees (your choice of sizes), our Christmas In A Box (including 16 channel light controller, Monster Brain and music player), and ten holiday songs of your choice from our pre-sequenced list of choices. All you need to add is a speaker or radio transmitter and a little bit of power from the wall outlet.
RGB Mini Trees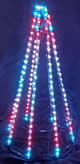 These are the same Tree frames as with the Standard Mini Trees. These frames, however, are illuminated with our Ultimate RGB Pixel strings. Each bulb on the string is individually controlled and can be any color of the rainbow (over 16 million color choices).
The "RGB Mini Trees" package is capable of delivering its light and music show over 1200 lighting channels between four mini trees (300 lighting channels per tree). If you want more trees, the expansion packages easily connect to the base package to handle a virtually unlimited number of trees, arches, fixtures, etc. Typically the Expansion Packages for the Ultimate RGB Mini Trees consist of one RGB light controller and Qty. 4 of the Ultimate RGB Mini Trees.